15 Aug

How To Do Facebook Integration with ApexChat?

For integration, you need to have access to Facebook page as admin. Following are the steps that will set up integration:
Log in to Facebook account
Go to developers.facebook.com and click on Add a new App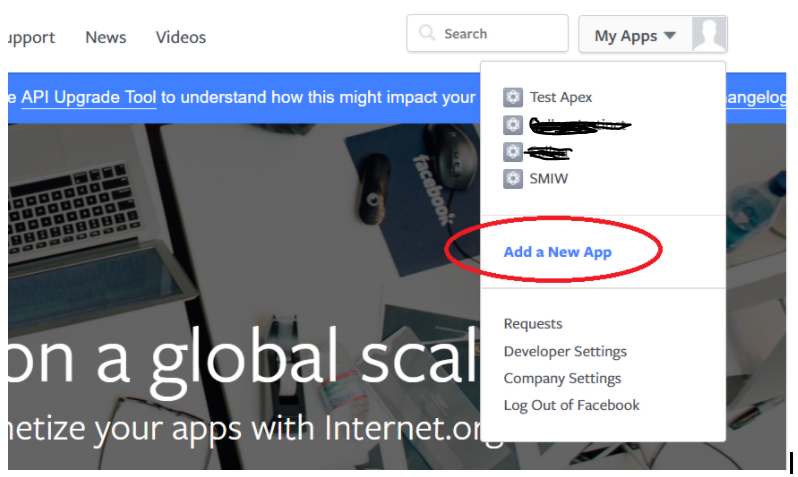 http://er display name as your company name or can be anything. Enter valid email address. And Click Create App ID.
4) Go to Add Product and under Messenger, click Set Up:

5) Go to Messenger from left side bar, and click on Setup Webhooks

6) Enter all following information provided to you by ApexChat:
Callback URL
Verification Token
Enable flags that are enabled in screenshot. And click Verify and Save.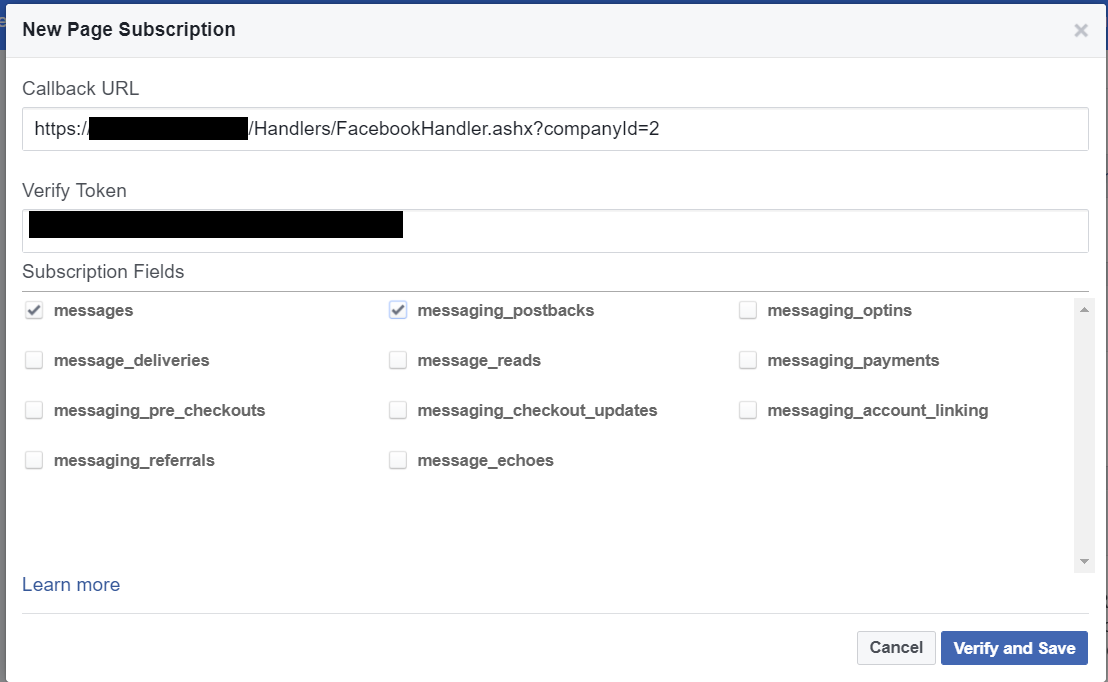 In case of any errors that may arise after clicking on Verify and Save, please contact us on

[email protected]
7) If the verification is successful, the window will close itself. You can now see Complete sign in Webhook's section:

8) In Token Generation section, select a page you want integration for. It might open up a new window, just click "Continue as YOUR_NAME " button.

9) Now click on Select a page button and select the page you want to integrate and Click Subscribe.
10) To make integration live, Facebook requires admins to submit a request for it. Go to App Review for Messenger:
Click on Add to Submission. Highlighted

11) Click on Edit Notes: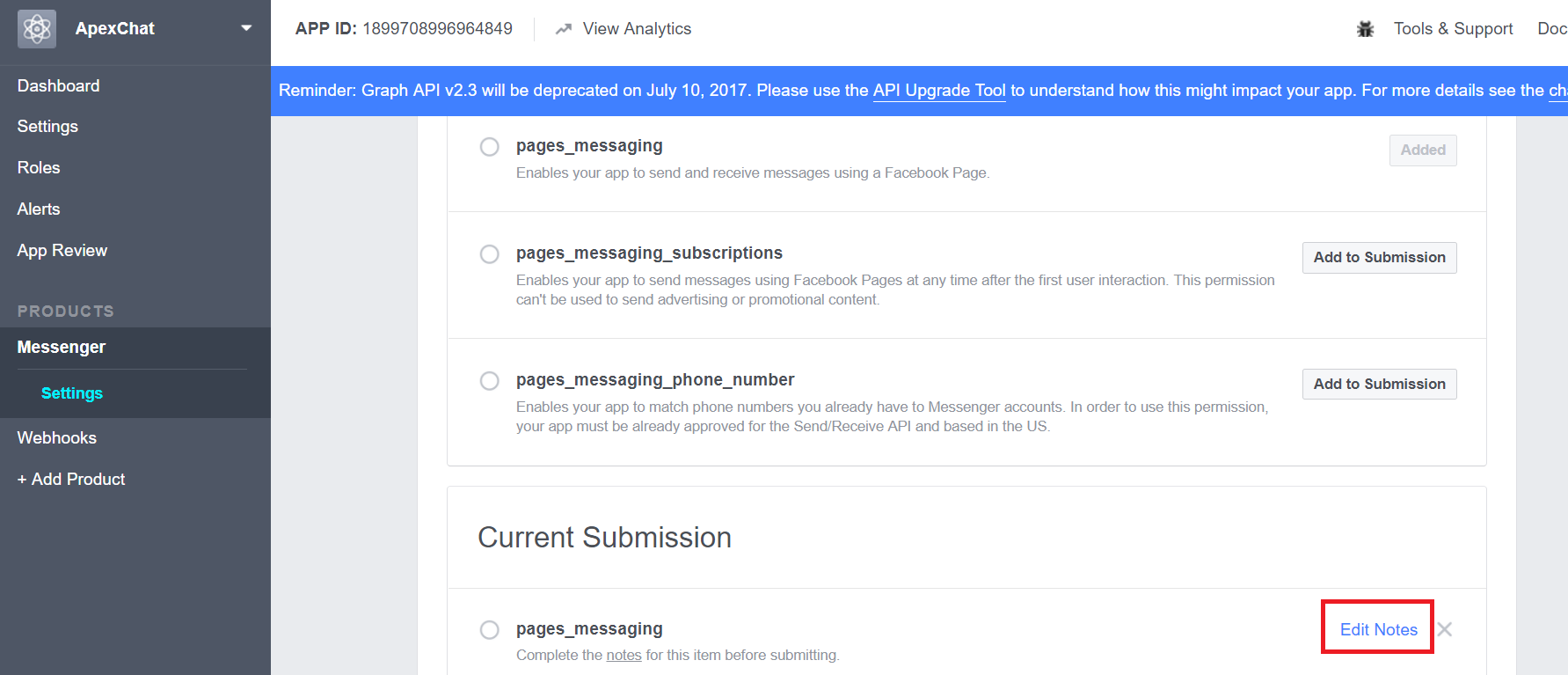 12) Select the page you want to integrate. Select "Your Messenger experience doesn't include automated replies" and fill the section. And click Save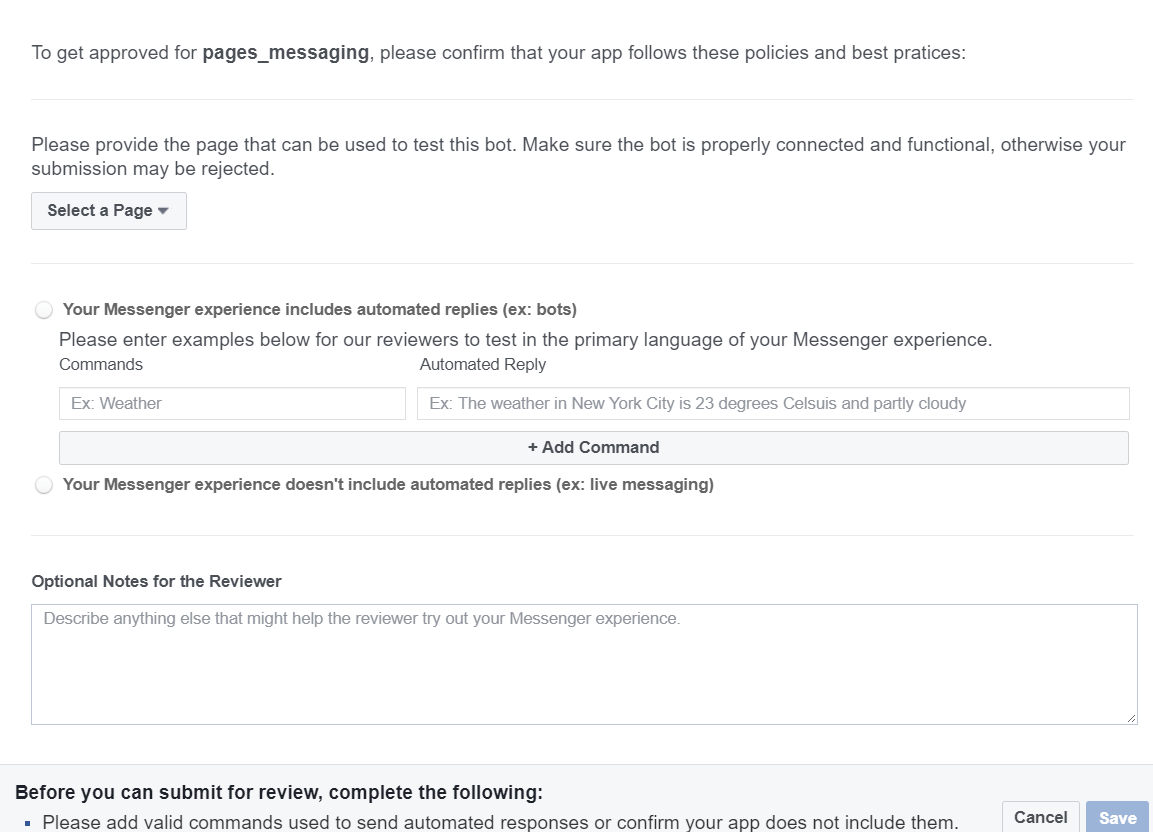 13) After clicking Save, please complete the following items:

Write a privacy policy and add that to your website page. Copy its page URL and paste it in the field.
For Privacy Policy, please follow this link to see what Facebook expects:
https://developers.facebook.com/policy/#law
14) Add an app logo that should be 1024 x 1024 pixels in size and background should be transparent.
You can download an empty image file from this link:
https://drive.google.com/file/d/0B9BG8e970BNDZlBnV3NCLXhfYlE/view?usp=sharing
Just add your logo in it and upload to facebook app
15) Once you are done with step 12, Go under Current Submission and click Submit for Review

Successful submission will trigger a success response from Facebook.
16) You will get a message in your page's inbox from Facebook that says:
This is a test message from the Facebook team. Please respond from your app within 2 days to confirm that the integration is functioning.
Make sure you respond to them within 2 days.
17) On approval, you will get a notification in your facebook profile's notification. If you don't get it, you can check the approval by going into App > Settings

You will see Approved: pages_messaging in your app dashboard as shown in screenshot.
18)  Once you get approval from facebook, Go to developers.facebook.com and select your added app. Go to Messenger > Settings and Under Token Generation, Select the page you integrated.
It will generate a Page Access Token, please copy and send it to one of the ApexChat's representatives.

19) Go to App Review and make your app public.

UPDATE Facebook Integration
Go to Webhooks > Edit Subscription > Click on "Remove Subscription"
Enter the CallBack URL & Verification Token information as provided by ApexChat representative and click "Verify and Save". In case of any error, please email

[email protected]


Make sure the header of CallBack URL should be https:// not http://
Go to Messenger > Under Webhooks section, click on "Edit events"Select the following checkboxes and Save:

Select a Page (where you want facebook integration) if not already subscribed and click Subscribe.
You are all set