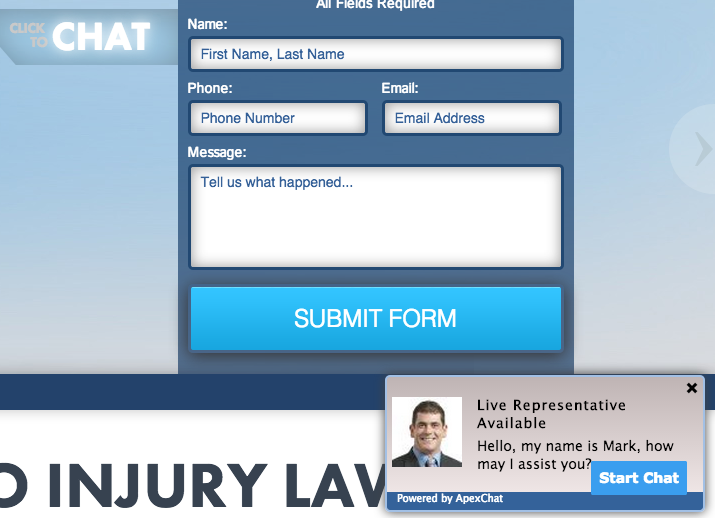 01 Dec

Custom live chat for better CRO

Custom live chat can make or break your fully integrated live chat solution's success.

Customizing your chat interface so it aligns with your brand identity can encourage website visitors to engage with your business. A chat invitation that fits with your homepage's look and feel contributes to your brand's credibility. Furthermore, chatting with a representative within a box that conforms to your brand identity can strengthen website visitors' connection to your brand. Ultimately, this stronger brand engagement can improve your conversion rate optimization efforts. Let's take a look at several businesses' custom live chat invitations: 
Minimally customized live chat
The first invitation is a minimally customized version. Whichever live chat software or service you go with, it should offer some level of customization. This invitation allows the business to replace the chat agent's headshot with any other image, such as a brand logo.
Custom live chat matched to brand identity
This chat invitation has a slightly higher level of customization. The chat invitation fits the law firm's overall brand identity and color scheme, in addition to the live representative headshot. An invitation that replicates your brand identity can make the prospect and client take experiences more seamless.
A personal touch for your custom live chat invitation
This law firm's invitation is highly customized. It includes custom text and a picture of one of the firm's attorneys. In addition, using an image depicting an employee of the company can add a highly personal touch to your custom live chat invitation.
Live chat customization can go beyond appearance, though. In fact, there are plenty of personalization options for your live chat invitation:
Include a URL directing visitors to a landing page of your choice.
Specify the precise location where the invitation should appear on your website.
A customized version of the minimized chat invitation.
Add engaging animations to the invitation.
An option to text with website visitors.
Set a time delay between the moment the webpage is loaded and when the invitation appears.
If you're trying to convert web traffic into leads, and eventually clients, ensuring the various elements of your website align with your brand identity is a step in the right direction. When your chat invitation matches the brand identity expressed on your website it will appear more credible and engaging. Ultimately that improved standing among website visitors will improve your CRO and net your business more clients.