02 Feb

2 business lessons from the Super Bowl

In case you missed it, yesterday the New England Patriots defeated the Seattle Seahawks to win the Super Bowl, arguably the most popular sports event in the United States. It was an exciting game that came down to a few key factors late in the game. Whether or not you watch football, there are a couple of business lessons that can be derived from events in this game.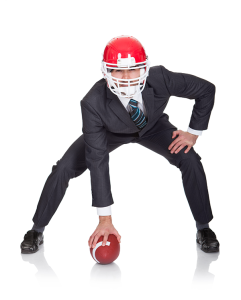 Lesson 1: Risk Taking
The first lesson is about risk. With just seconds left on the clock, the Seahawks coach called a risky play. Had the play been successful, the Seahawks would have sealed victory. However, there are many fans who believe that the play was an unnecessary risk. With only 1 yard to go, the coach of this strong running team chose to call a passing play. His gamble didn't pay off, and the Seahawks lost the game. In business, as in sports, it is often necessary to take risks. Taking unnecessary or unmitigated risks, however, is foolish. For example, you can unnecessarily risk losing potential clients because you don't have a strong live chat service in place.
Lesson 2: Ultimate Effort
The second lesson that can be learned from this year's Super Bowl is about making the ultimate effort. In that last play run by the Seahawks, a rookie named Malcolm Butler pushed through the offense and intercepted the pass, securing the Patriots' victory. He did not simply block the pass or deflect the ball. He knew that may not be enough because the Seahawks would still have possession and another chance to score. Similarly, in business, you must execute your decisions with 100% focus and commitment—anything less is not satisfactory.
In order to secure victory for your team, you need to make sure that you aren't taking unnecessary risks and that you are giving your all. Thousands of business owners already rely on ApexChat every day to take their business to the next level by using live chat support. We promise we will stand behind your business with 100% focus and commitment. Go ahead. Give us a shot.